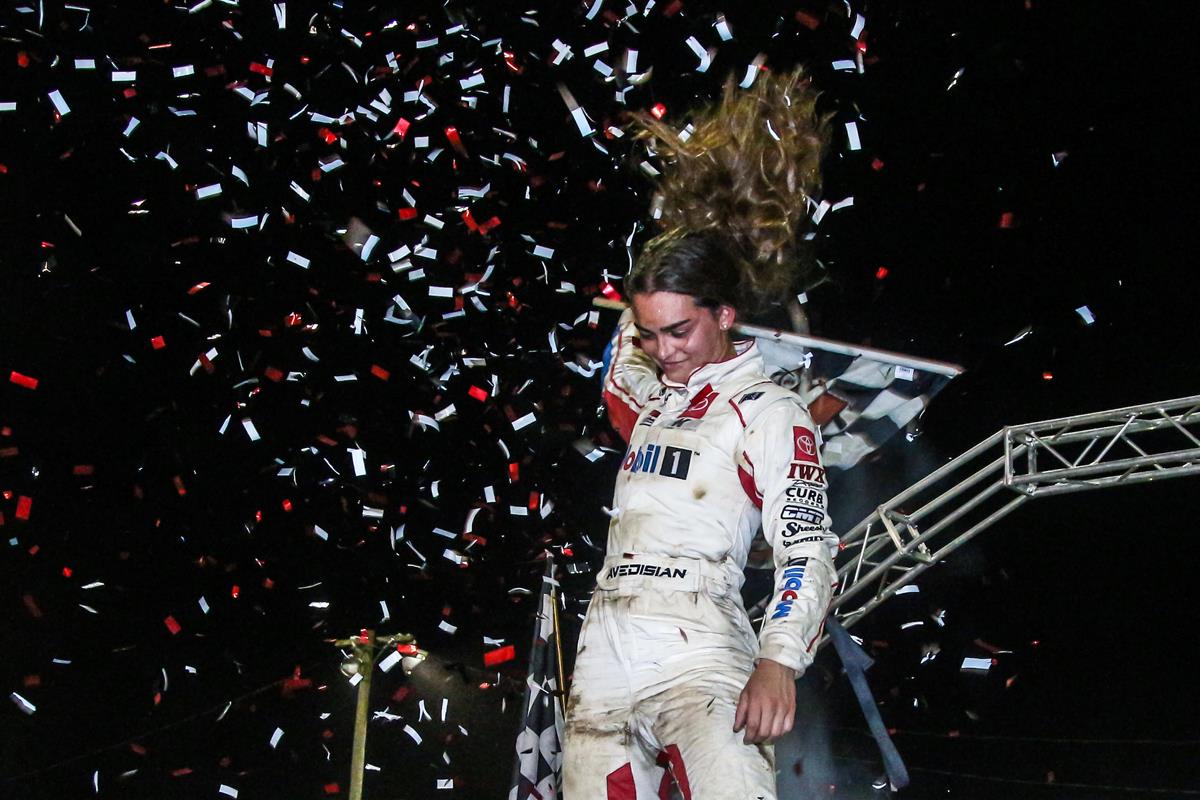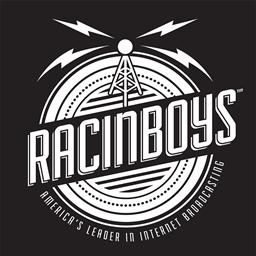 ---
Jade Avedisian makes late race pass to win at Paragon
By Jordan Deluca, Xtreme Outlaw Midget Series PR (Paragon, IN( 00 Her first lap of the weekend in competition ended sitting upside down in the middle of the frontstretch, but her final lap ended with a trip to Victory Lane.
PHOTO CREDIT: Aaron Skillman
Jade Avedisian engineered one of the most notable comebacks of the season Saturday night at Paragon Speedway, winning her fifth Feature of the season with the Xtreme Outlaw Midget Series presented by Toyota – approximately 26 hours after going for a wild crash-and-flip on her first lap of Qualifying Friday.
Her team at Keith Kunz Motorsports rolled out the backup Mobil 1, LynK/Toyota #71 after the crash and pressed onward as she battled back to a seventh-place finish in the main event. After clearing her head of the Friday blunder, Avedisian came back with vengeance in Saturday night's Feature, taking the lead on the final restart from Ryan Timms to bank the $5,000 grand prize and put an exclamation point on a critical weekend before the chase for the championship begins to wind down.
"Last night was super tough," Avedisian, 16, of Clovis, CA, said. "Flipping in Qualifying is never a good thing. It's one thing when you flip trying to win a race. When you flip in Qualifying, it's just not a good feeling."
"There's no quit in this team, and I'm just truly grateful to be here and happy to be in Victory Lane again."
In securing her seventh career Series victory, Avedisian also took a chunk out of her deficit in the points standings, going from 31 points out of the lead entering Saturday night down to only seven currently. With six races left on the schedule and three opponents also within striking distance behind her, Avedisian has little doubt of her and the team's chances to be the ones left standing after the season's over in October.
"I truly feel like this team is very capable of getting the championship," Avedisian said. "It's just going to be up to me to limit the mistakes. There's only six more races to go, so it's gonna come down to point-for-point. Hopefully, we can do good under the pressure; I feel like we can."
While Avedisian got the upper hand in the end on Saturday, it was Chase McDermand who jumped out to the early lead from outside the front row and led the opening laps before Ryan Timms took advantage of an opening down low and threw a big slide job to take the top spot on Lap 10. Timms, the 17-year-old open-wheel star from Oklahoma City, OK, then set sail on the field in a long green flag stretch after a restart at the halfway point, leading 21 total laps and opening up a three-second gap in traffic before the caution was thrown again with five laps left.
With his large lead now erased and both Avedisian and McDermand right on his bumper for the restart, Timms ensured to hit his marks as the green flag dropped once again, but quickly encountered resistance.
"I slowed way down to hit the bottom because it was starting to slick-off real good," Timms said. "I got a little push and pushed up the track. Going into Turn 3, I was expecting a slider. I got to about the middle of the corner, didn't see anyone, and all of a sudden, I see a car right in front of me."
McDermand pinned the throttle on the restart and headed full-bore into Turn 1, riding the extreme top side of the 3/8-mile course in an attempt to get by Avedisian for second. Once he advanced position down the backstretch, he quickly threw it down low under Timms in another slide job attempt for the lead but was unsuccessful after making contact in Turn 4.
"He backed up into me," Timms said. "He got me all jacked-up and then got himself jacked-up, and Jade went under both of us."
When McDermand and Timms scrubbed wheels in Turn 4, Avedisian was right there to take advantage, sneaking past both of them on the bottom of the track to swipe the top spot.
"I was just hoping and praying the third-place guy was gonna throw something, which he did, because I had nothing to throw; my restart was really bad," Avedisian said. "It just bunched them up, and I was able to clear them off Turn 4. Sometimes, you'd just rather be lucky than good."
From there, Avedisian was in control of her own racing destiny. She went nearly mistake-free in the closing laps, holding off Timms and the rest of the field behind her and garnered her seventh career Series win.
Timms quickly recovered to second from the incident on the restart, but despite his efforts, was unable to catch Avedisian in the end. After leading 21 laps – most of any driver for the third time this season – he, once again, comes up short in pursuit of his first career Xtreme Outlaw Series win.
"On the three nights I've been leading, we've got a blown tire, blown-up motor, and then just getting wheeled for the lead," Timms said. "I feel like I'm doing everything I can here; just need a little bit of luck."
Zach Daum crossed the stripe in third to collect his third podium in the last four races. With the win Friday and podium on Saturday, the Pocahontas, IL-driver once again chipped away at his points gap – now down to 75.
UP NEXT
The Xtreme Outlaw Midgets are back in action in two weeks' time for a three-race swing through Illinois at Jacksonville Speedway (Sept. 15), Highland Speedway (Sept. 16) and Red Hill Raceway (Sept. 17). Tickets for all three events will be on sale at the gate on race day. If you can't be at the track to watch in person, stream every lap live on DIRTVision.
RESULTS
Feature (35 Laps): 1. 71-Jade Avedisian[3]; 2. 67-Ryan Timms[5]; 3. 7U-Zach Daum[8]; 4. 08-Cannon McIntosh[10]; 5. 40-Chase McDermand[2]; 6. 19AZ-Hayden Reinbold[1]; 7. 97-Gavin Miller[4]; 8. 55-Trevor Cline[13]; 9. 31B-Kyle Beilman[9]; 10. 75AU-Bryan Stanfill[15]; 11. 81-Dakota Gay[12]; 12. 93C-Chett Gehrke[14]; 13. 9M-Zach Wigal[11]; 14. 25K-Taylor Reimer[7]; 15. 17B-Austin Barnhill[6]
Heat 1 (8 Laps): 1. 67-Ryan Timms[1]; 2. 71-Jade Avedisian[3]; 3. 17B-Austin Barnhill[6]; 4. 7U-Zach Daum[5]; 5. 25K-Taylor Reimer[4]; 6. 08-Cannon McIntosh[2]; 7. 93C-Chett Gehrke[8]; 8. 75AU-Bryan Stanfill[7]
Heat 2 (8 Laps): 1. 97-Gavin Miller[2]; 2. 40-Chase McDermand[3]; 3. 19AZ-Hayden Reinbold[4]; 4. 31B-Kyle Beilman[5]; 5. 9M-Zach Wigal[7]; 6. 55-Trevor Cline[6]; 7. 81-Dakota Gay[1]
Qualifying 1: 1. 25K-Taylor Reimer, 00:15.265[6]; 2. 71-Jade Avedisian, 00:15.287[1]; 3. 08-Cannon McIntosh, 00:15.476[3]; 4. 67-Ryan Timms, 00:15.487[5]; 5. 7U-Zach Daum, 00:15.535[7]; 6. 17B-Austin Barnhill, 00:15.853[4]; 7. 75AU-Bryan Stanfill, 00:15.971[2]; 8. 93C-Chett Gehrke, 00:16.791[8]
Qualifying 2: 1. 19AZ-Hayden Reinbold, 00:15.435[3]; 2. 40-Chase McDermand, 00:15.462[4]; 3. 97-Gavin Miller, 00:15.959[2]; 4. 81-Dakota Gay, 00:15.967[5]; 5. 31B-Kyle Beilman, 00:16.013[1]; 6. 55-Trevor Cline, 00:16.034[6]; 7. 9M-Zach Wigal, 00:16.808[7]
=======================================================================================================================
JESSUP LOGISTICS 410 SPRINTS
A Feature 1 (25 Laps): 1. 17GP-Jadon Rogers[4]; 2. 04-Jordan Kinser[6]; 3. 33-Jake Scott[1]; 4. 75-Cody Trammell[10]; 5. 0G-Kyle Shipley[2]; 6. 16K-Andrew Prather[9]; 7. 24M-Hunter Maddox[8]; 8. 87-Tony Helton[7]; 9. 4U-Allen Howard Jr[14]; 10. 94-Jarett Miller[17]; 11. 41A-Owen Barr[15]; 12. 17L-Billy Lawless[11]; 13. 78-Robert Caho Jr[12]; 14. 22*-Colin Parker[5]; 15. 98-Billy Winsemann[13]; 16. 41-Ricky Lewis[3]; 17. 67L-Josh Lane[18]; 18. 16H-Steven Hobbs[16]
Heat 1 (8 Laps): 1. 17GP-Jadon Rogers[4]; 2. 41-Ricky Lewis[3]; 3. 22*-Colin Parker[2]; 4. 87-Tony Helton[5]; 5. 16K-Andrew Prather[1]; 6. 17L-Billy Lawless[7]; 7. 98-Billy Winsemann[9]; 8. 41A-Owen Barr[8]; 9. 94-Jarett Miller[6]
Heat 2 (8 Laps): 1. 0G-Kyle Shipley[1]; 2. 33-Jake Scott[2]; 3. 04-Jordan Kinser[4]; 4. 24M-Hunter Maddox[5]; 5. 75-Cody Trammell[3]; 6. 78-Robert Caho Jr[7]; 7. 4U-Allen Howard Jr[6]; 8. 16H-Steven Hobbs[9]; 9. 67L-Josh Lane[8]
Qualifying 1 (3 Laps): 1. 17GP-Jadon Rogers, 00:15.347[5]; 2. 41-Ricky Lewis, 00:15.347[8]; 3. 22*-Colin Parker, 00:15.746[3]; 4. 16K-Andrew Prather, 00:15.841[6]; 5. 87-Tony Helton, 00:16.536[4]; 6. 94-Jarett Miller, 00:16.675[2]; 7. 17L-Billy Lawless, 00:16.820[7]; 8. 41A-Owen Barr, 00:17.592[9]; 9. 98-Billy Winsemann, 00:17.603[1]
Qualifying 2 (3 Laps): 1. 04-Jordan Kinser, 00:15.423[3]; 2. 75-Cody Trammell, 00:15.672[5]; 3. 33-Jake Scott, 00:15.760[9]; 4. 0G-Kyle Shipley, 00:15.785[6]; 5. 24M-Hunter Maddox, 00:15.855[7]; 6. 4U-Allen Howard Jr, 00:15.972[4]; 7. 78-Robert Caho Jr, 00:15.993[1]; 8. 67L-Josh Lane, 00:16.087[8]; 9. 16H-Steven Hobbs, 00:16.346[2]
WILLIAMS TREE COMPANY HORNETS
A Feature 1 (20 Laps): 1. 44-Alex Wilson[18]; 2. 54-Casey Elliott[3]; 3. 144-Jeremy Wilson[5]; 4. 39-Abby Stierwalt[2]; 5. 87-Edward Freeman[4]; 6. 40H-Scott Howe[12]; 7. 33-Levi Kidwell[11]; 8. 6H-Dale Hobbs[9]; 9. 88J-Justin Tackett[8]; 10. 89-Deron Freeman[17]; 11. 00-Chad Nolte[14]; 12. 2J-Josh Arthur[7]; 13. 3H-Bill Hobbs[1]; 14. 18-William Wright[6]; 15. 55-Schylar Smith[15]; 16. 11-Chris Hillman Jr[10]; 17. (DNS) 6-Curtis Freeman; 18. (DNS) 2C-Conner Garrison
Heat 1 (8 Laps): 1. 3H-Bill Hobbs[1]; 2. 39-Abby Stierwalt[3]; 3. 87-Edward Freeman[4]; 4. 18-William Wright[7]; 5. 88J-Justin Tackett[8]; 6. 33-Levi Kidwell[6]; 7. 6-Curtis Freeman[2]; 8. 55-Schylar Smith[5]; 9. 89-Deron Freeman[9]
Heat 2 (8 Laps): 1. 11-Chris Hillman Jr[1]; 2. 54-Casey Elliott[3]; 3. 144-Jeremy Wilson[5]; 4. 2J-Josh Arthur[8]; 5. 6H-Dale Hobbs[7]; 6. 40H-Scott Howe[9]; 7. 00-Chad Nolte[4]; 8. 2C-Conner Garrison[2]; 9. 44-Alex Wilson[6]
Qualifying 1 (3 Laps): 1. 3H-Bill Hobbs, 00:20.527[9]; 2. 6-Curtis Freeman, 00:21.038[1]; 3. 39-Abby Stierwalt, 00:21.353[7]; 4. 87-Edward Freeman, 00:21.367[4]; 5. 55-Schylar Smith, 00:21.975[8]; 6. 33-Levi Kidwell, 00:22.414[6]; 7. 18-William Wright, 00:22.496[2]; 8. 88J-Justin Tackett, 00:27.041[3]; 9. 89-Deron Freeman, 00:27.041[5]
Qualifying 2 (3 Laps): 1. 11-Chris Hillman Jr, 00:19.406[5]; 2. 2C-Conner Garrison, 00:20.409[2]; 3. 54-Casey Elliott, 00:20.437[3]; 4. 00-Chad Nolte, 00:20.633[9]; 5. 144-Jeremy Wilson, 00:20.825[8]; 6. 44-Alex Wilson, 00:20.966[4]; 7. 6H-Dale Hobbs, 00:21.176[7]; 8. 2J-Josh Arthur, 00:21.868[1]; 9. 40H-Scott Howe, 00:21.961[6]
---
Submitted By: Kirk Elliott
Back to News