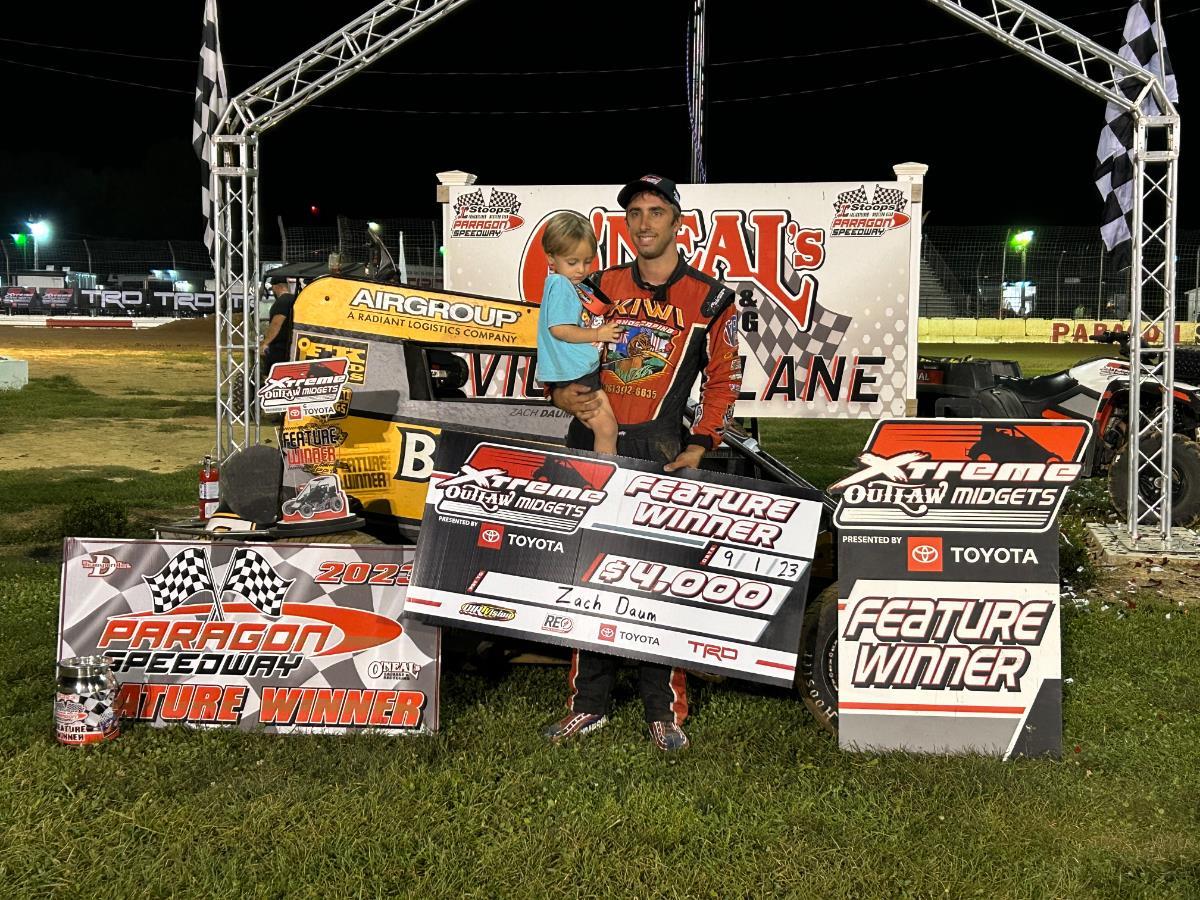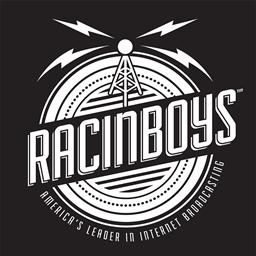 ---
Zach Daum leads flag-to-flag at Paragon for fifth Xtreme Outlaw win of season
If there's one pair in the Midget racing world heating up at exactly the right time, it's Zach Daum and Trifecta Motorsports. Their fifth Feature win of the season Friday night at Paragon Speedway has not only made Daum the winningest driver on tour thus far, but also given him a chance to repeat as champion of the Xtreme Outlaw Midget Series presented by Toyota.
Since their pairing exactly three months ago, Trifecta has helped Daum surge in the driver championship standings from 287 points back in ninth place up to fourth, now only 82 points behind the leader with seven races left. Though he has his doubts about a title repeat, Daum has other goals to meet by season's end.
"I don't know if there's enough time in the championship to catch them guys, so at this point in time, you're just racing for wins," Daum, 32, of Pocahontas, IL, said. "If we don't win the championship, I at least want to win the most races."
Friday featured the latest installment of team's success story as Daum led all 30 circuits around the 3/8-mile of Paragon – one week following their victory at Davenport Speedway – nearly unchallenged to collect the $4,000 grand prize and Trifecta's fifth national Midget Series victory.
"It's pretty surreal how quickly we've gelled," Daum said. "We've been really, really consistent, and there's five wins in the equation, too. That's cool."
An inversion pill draw of six put Daum on the front row of the main event, which he took advantage of and jumped out to the lead on the opening lap. He opened a gap of over two seconds inside the first 10 laps, then stretched it to over three seconds before the race's first caution with 18 laps complete.
"I hate getting into the lead early in the race; you feel like a sitting duck," Daum said. "Luckily, we were out front and could run our own race."
Directly behind him for the ensuing restart was 16-year-old Gavin Miller, of Allentown, PA, hot on the trail of another Feature win after breaking through to Victory Lane last weekend. Miller looked low on Daum out of Turn 2 several times but was unable to pull even and set up a pass for the lead.
Daum altered his line around the track slightly for the restarts, entering the corners differently to try and gain more speed and break away from the field again.
"I figured just give me a lap to get my momentum and then I'd go back to the line I was running," Daum said. "I kinda didn't want [Miller] to snooker me and then me move all the way to the bottom like he was, and him roll around me in the middle."
In the end, Miller was unable to catch the man out front and settled for runner-up honors, shrinking his points gap down to 71. Daum's veteran smarts behind the wheel propelled him across the line first for the second time in three races.
"I didn't know if there was anybody there or not; I just tried to hit my marks," Daum said. "When you're on the pole – you're fortunate enough to be on the front row, just don't give the Feature away."
For the second time in three races, Hayden Reinbold completed the podium with his third-place efforts. After riding his learning curve for most of the season, Reinbold has been on a hot streak as of late with six top-10 finishes in his last seven Series races.
"As you keep running forward, you realize where you are and where you deserve to be," Reinbold said. "My car's been super fast lately. Just need to keep doing my job and I feel like we can get a win here soon."
UP NEXT
The Xtreme Outlaw Midgets return to Paragon Speedway for one more night of competition Saturday, Sept. 2, alongside the 410 Non-Wing Sprint Cars and Hornets. Tickets will be on sale at the gate; live stream available at DIRTVision.com or on the DIRTVision app.
RESULTS
Feature (30 Laps): 1. 7U-Zach Daum[2]; 2. 97-Gavin Miller[3]; 3. 19AZ-Hayden Reinbold[4]; 4. 40-Chase McDermand[6]; 5. 25K-Taylor Reimer[9]; 6. 67-Ryan Timms[7]; 7. 71-Jade Avedisian[8]; 8. 08-Cannon McIntosh[5]; 9. 17B-Austin Barnhill[10]; 10. 55-Trevor Cline[17]; 11. 75AU-Bryan Stanfill[1]; 12. 31B-Kyle Beilman[15]; 13. 81-Dakota Gay[11]; 14. 99K-Robert Carson[16]; 15. 93C-Chett Gehrke[18]; 16. 18N-Weston Gorham[12]; 17. 21D-Justin Dickerson[13]; 18. 25-Jacob Denney[14]
Heat 1 (8 Laps): 1. 08-Cannon McIntosh[3]; 2. 97-Gavin Miller[1]; 3. 71-Jade Avedisian[8]; 4. 7U-Zach Daum[4]; 5. 81-Dakota Gay[5]; 6. 21D-Justin Dickerson[6]; 7. 99K-Robert Carson[7]; 8. 93C-Chett Gehrke[9]; 9. 25-Jacob Denney[2]
Heat 2 (8 Laps): 1. 40-Chase McDermand[3]; 2. 19AZ-Hayden Reinbold[1]; 3. 75AU-Bryan Stanfill[9]; 4. 67-Ryan Timms[2]; 5. 17B-Austin Barnhill[6]; 6. 18N-Weston Gorham[8]; 7. 25K-Taylor Reimer[4]; 8. 31B-Kyle Beilman[5]; 9. 55-Trevor Cline[7]
Qualifying 1: 1. 7U-Zach Daum, 00:15.276[3]; 2. 08-Cannon McIntosh, 00:15.466[7]; 3. 25-Jacob Denney, 00:15.669[5]; 4. 97-Gavin Miller, 00:15.771[6]; 5. 81-Dakota Gay, 00:16.314[9]; 6. 21D-Justin Dickerson, 00:16.689[8]; 7. 99K-Robert Carson, 00:16.823[1]; 8. 71-Jade Avedisian, 00:17.731[4]; 9. (DNS) 93C-Chett Gehrke, 00:17.731
Qualifying 2: 1. 25K-Taylor Reimer, 00:15.111[5]; 2. 40-Chase McDermand, 00:15.288[3]; 3. 67-Ryan Timms, 00:15.364[2]; 4. 19AZ-Hayden Reinbold, 00:15.462[6]; 5. 31B-Kyle Beilman, 00:15.763[1]; 6. 17B-Austin Barnhill, 00:15.912[8]; 7. 55-Trevor Cline, 00:16.068[7]; 8. 18N-Weston Gorham, 00:16.171[4]; 9. 75AU-Bryan Stanfill, 00:16.248[9]
Hot Laps: 1. 40-Chase McDermand, 00:15.201[6]; 2. 25K-Taylor Reimer, 00:15.203[10]; 3. 25-Jacob Denney, 00:15.315[9]; 4. 71-Jade Avedisian, 00:15.319[7]; 5. 7U-Zach Daum, 00:15.353[5]; 6. 67-Ryan Timms, 00:15.620[4]; 7. 08-Cannon McIntosh, 00:15.743[13]; 8. 97-Gavin Miller, 00:15.789[11]; 9. 19AZ-Hayden Reinbold, 00:15.802[12]; 10. 17B-Austin Barnhill, 00:16.226[16]; 11. 81-Dakota Gay, 00:16.234[17]; 12. 21D-Justin Dickerson, 00:16.312[15]; 13. 55-Trevor Cline, 00:16.384[14]; 14. 75AU-Bryan Stanfill, 00:16.495[18]; 15. 18N-Weston Gorham, 00:16.757[8]; 16. 31B-Kyle Beilman, 00:16.863[2]; 17. 99K-Robert Carson, 00:17.392[1]; 18. (DNS) 93C-Chett Gehrke, 00:17.392
========================================================================================================================
JESSUP LOGISTICS 410 SPRINTS
A Feature 1 (20 Laps): 1. 17GP-Jadon Rogers[2]; 2. 41-Ricky Lewis[10]; 3. 0G-Kyle Shipley[8]; 4. 34-Sterling Cling[1]; 5. 5M-Matthew McDonald[4]; 6. 75-Cody Trammell[12]; 7. 26-Pat Giddens[14]; 8. 4C-Daylan Chambers[7]; 9. 00-Noah Whitehouse[16]; 10. 78-Robert Caho Jr[3]; 11. 17L-Billy Lawless[11]; 12. 22*-Colin Parker[9]; 13. 51-Steve Hair[13]; 14. 22-Brandon Spencer[6]; 15. 16H-Steven Hobbs[18]; 16. 24-Casey Shuman[5]; 17. 44-David Hair[15]; 18. 16K-Andrew Prather[17]
Heat 1 (8 Laps): 1. 78-Robert Caho Jr[2]; 2. 17GP-Jadon Rogers[3]; 3. 24-Casey Shuman[1]; 4. 4C-Daylan Chambers[5]; 5. 22*-Colin Parker[4]; 6. 17L-Billy Lawless[8]; 7. 51-Steve Hair[9]; 8. 44-David Hair[6]; 9. 16K-Andrew Prather[7]
Heat 2 (8 Laps): 1. 34-Sterling Cling[2]; 2. 5M-Matthew McDonald[1]; 3. 22-Brandon Spencer[4]; 4. 0G-Kyle Shipley[3]; 5. 41-Ricky Lewis[8]; 6. 75-Cody Trammell[5]; 7. 26-Pat Giddens[6]; 8. 00-Noah Whitehouse[7]; 9. 16H-Steven Hobbs[9]
Qualifying 1 (3 Laps): 1. 22*-Colin Parker, 00:15.696[5]; 2. 17GP-Jadon Rogers, 00:15.821[6]; 3. 78-Robert Caho Jr, 00:15.822[3]; 4. 24-Casey Shuman, 00:15.840[7]; 5. 4C-Daylan Chambers, 00:15.942[9]; 6. 44-David Hair, 00:16.384[8]; 7. 16K-Andrew Prather, 00:16.414[2]; 8. 17L-Billy Lawless, 00:16.778[1]; 9. 51-Steve Hair, 00:16.833[4]
Qualifying 2 (3 Laps): 1. 22-Brandon Spencer[1]; 2. 0G-Kyle Shipley[4]; 3. 34-Sterling Cling[8]; 4. 5M-Matthew McDonald[3]; 5. 75-Cody Trammell[5]; 6. 26-Pat Giddens[2]; 7. 00-Noah Whitehouse[9]; 8. 41-Ricky Lewis[6]; 9. 16H-Steven Hobbs[7]
NELSON CONTRACTING BOMBERS
A Feature 1 (20 Laps): 1. 77-Jason Trader[3]; 2. 72T-Jason Trimmer II[8]; 3. 15-Mike Swango[7]; 4. 33A-Alex Shipman[9]; 5. 54BH-Katie Grigsby[10]; 6. 5E-Elijah McRoberts[14]; 7. 6C-Megan Cavaness[6]; 8. 27N-Kenrick Neal[12]; 9. 81-Ethan Litton[2]; 10. 33-Juan Asbury[5]; 11. 30-Ben Daniel[13]; 12. 04-Jacob Trader[11]; 13. (DNS) 55-Will McRoberts; 14. (DQ) 105-Sheldon Oberle[1]
Heat 1 (8 Laps): 1. 105-Sheldon Oberle[1]; 2. 77-Jason Trader[2]; 3. 33-Juan Asbury[3]; 4. 15-Mike Swango[5]; 5. 33A-Alex Shipman[4]; 6. 04-Jacob Trader[6]; 7. 30-Ben Daniel[7]
Heat 2 (8 Laps): 1. 81-Ethan Litton[1]; 2. 55-Will McRoberts[7]; 3. 6C-Megan Cavaness[2]; 4. 72T-Jason Trimmer II[4]; 5. 54BH-Katie Grigsby[5]; 6. 27N-Kenrick Neal[6]; 7. 5E-Elijah McRoberts[3]
Qualifying 1 (3 Laps): 1. 105-Sheldon Oberle, 00:18.525[4]; 2. 77-Jason Trader, 00:18.935[7]; 3. 33-Juan Asbury, 00:19.149[3]; 4. 33A-Alex Shipman, 00:19.207[6]; 5. 15-Mike Swango, 00:19.244[1]; 6. 04-Jacob Trader, 00:19.867[5]; 7. 30-Ben Daniel, 00:20.900[2]
Qualifying 2 (3 Laps): 1. 81-Ethan Litton, 00:18.711[7]; 2. 6C-Megan Cavaness, 00:19.247[6]; 3. 5E-Elijah McRoberts, 00:19.388[3]; 4. 72T-Jason Trimmer II, 00:19.591[5]; 5. 54BH-Katie Grigsby, 00:19.631[2]; 6. 27N-Kenrick Neal, 00:19.822[4]; 7. 55-Will McRoberts, 00:19.822[1]
---
Submitted By: Kirk Elliott
Back to News